One Stop Order Processing
How to create Ebay Shipping Confirmations from One Stop Order Processing
This feature is available in Professional, Premium and Enterprise versions of One Stop Order Processing

NOTE: If you using Professional or a higher version you can automatically mark your orders as shipped (by ticking the 'When orders are shipped update Ebay' option in the Shipping options).

You can update all of your Ebay orders' statuses using One Stop Order Processing (up to 10000 at a time). To do this you will need to subscribe to Ebay's Selling Manager Pro (current cost £4.99 per month). This is described below:

1 Once you have processed and shipped your Ebay orders in One Stop Order Processing (e.g. marked them as shipped, printed invoices and adding tracking information), select the EbayShippingConfirmation view ((if this doesn't appear in your list you import this by selecting View->Customize Current View and clicking on Import. Then select the C:\OSOP\Main\EbayShippingConfirmation.mev file). You can also download the view from here

2 Amend any default information for all orders or individual orders (e.g. Shipping method). You can define a value for all orders using the Default value when you amend the Selected fields (when you Customize Current View). If you want a specific value for each order you can amend this in the Custom Values tab on each order.

3 Select (tick) the orders to export shipping information for.

4 Press the Export Orders button (

) and select EbayShippingConfirmation.

5 Logon to Ebay and click on the File Management Centre, shown below.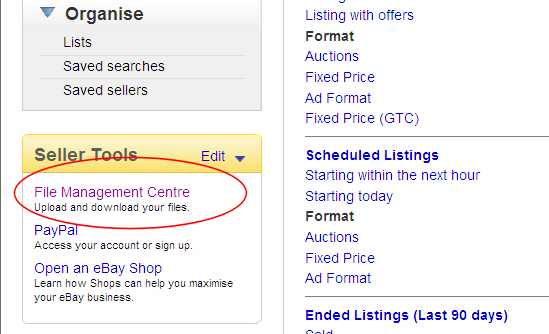 6 Click on the Upload Inventory option, shown below. If you do have any entries in the Uploads section you have not subscribed to Selling Manager Pro. To use this facility you will need to subscribe to Selling Manager Pro.





7 Enter your Ebay email address and the shipping file produced from One Stop Order Processing, shown below. Click on the Upload button. You can check the status of the upload by clicking on the View Upload Results option on the left hand side.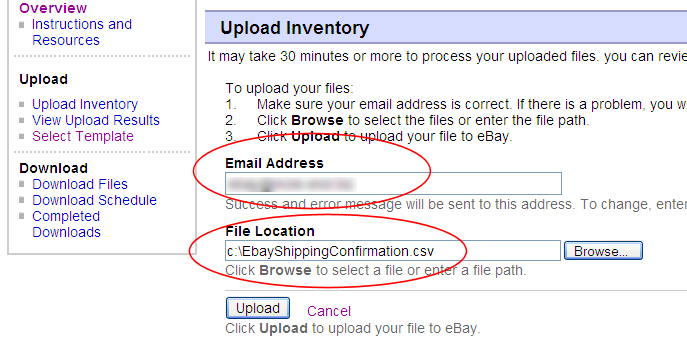 ---
One Stop Order Processing allows you to import and process orders for Ebay, Amazon, SellerDeck, Shopify, Magento, osCommerce, BigCommerce, RomanCart, eBid, XCart, Oxatis, Groupon, Wowcher, Paypal, Cdiscount. ekmpowershop, Etsy, Flubit, OpenCart, PinnacleCart, PrestaShop, WooCommerce, Weebly, ChannelAdvisor, ASOS Marketplace, OnBuy, Mighty Deals , Mail Order and Telephone Sales
Mole End Group of Companies

Products, plugins and utilities for SellerDeck
All your orders, from all your systems, all together in one simple-to-use application
Integrated label invoice paper and free software packages and templates. Print your invoice and labels at the same time
Print Amazon Despatch Notes with a peel out label with the customer's details on directly from Amazon
Print Ebay Invoices with a peel out label with the customer's details on directly from Ebay